Description
We're HUDWAY. We've been developing HUD solutions to resolve distracted driving problem since 2013.
Meet HUDWAY Cast a one of a kind, break-through solution for stress-free and safer driving.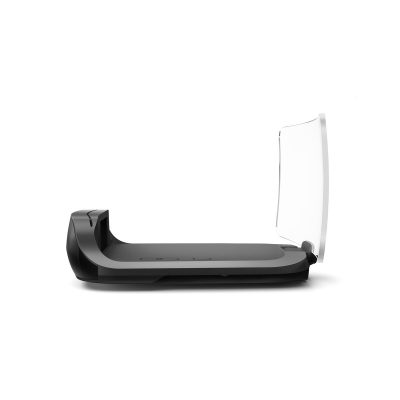 Head-up display (HUD) as an external display for your smartphone.
HUDWAY Cast is a portable head-up display for your car to get directions, receive calls, texts and control your music in a safer and easier way. It works wirelessly with both iOS and Android devices: you always see your directions in your line of sight,
while your phone acts as a quick-access control panel.
Head-up display (HUD) devices allow drivers to see directions and other critical navigation information right in front of their eyes.
HUDs have already made their way into the automotive industry, but mostly as a premium built-in option only a few can afford. Not to mention, these HUDs are programmed to display a very limited set of information preset by the vehicle manufacturer. And because of that, chances are — you will still be using your smartphone for navigation, especially if you prefer driving with Waze or Google Maps.
But when you use your smartphone as a navigation device — wherever you mount it, it will either block your view or make you look away from the road to check directions.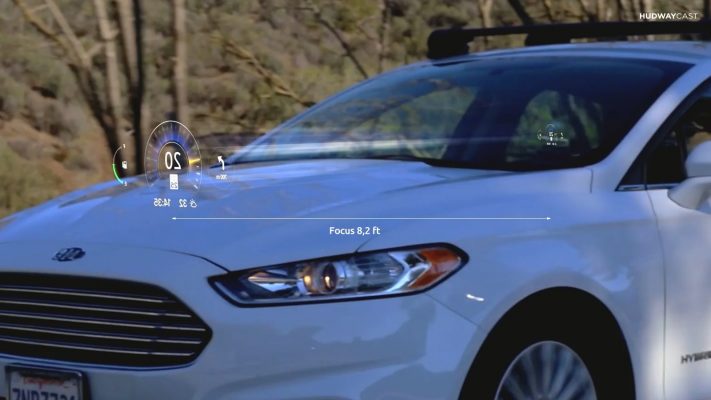 Besides, you don't limit using your smartphone in the car to navigation only, do you?
At the same time, you must be well aware that using a smartphone behind
the wheel is dangerous. Not only does it take our eyes off the road,
but also reduces our visual scan, and increases cognitive load. Smartphone distraction behind the wheel is reported to have taken   more lives than alcohol.
Holding a phone while driving has been banned in a number of the US states, but the National Safety Council still reports that cell phone use while driving leads to 1.6 million crashes each year.
We can't deny there may be a need to stay connected even when you're driving. But we believe there should be a safer way to use a smartphone behind the wheel, and we hope to change everyone's driving habits for the better— with an affordable and universal HUD solution.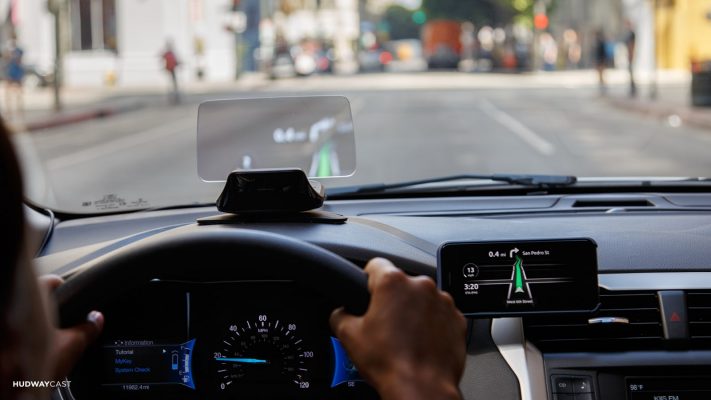 In essence, HUDWAY Cast is an external display for your smartphone — bright, transparent, and driving-oriented. Here's an overview of its features.
Gives a real head-up display feel
The image from HUDWAY Cast display is taken to a lens which enlarges it to 20″ and focuses the virtual image about 9 feet or 2.8 meters in front of you. This way, it feels easier for your eyes to readjust focus from the road to the projection — just like using a luxury vehicle built-in HUD, but about a dozen times less expensive.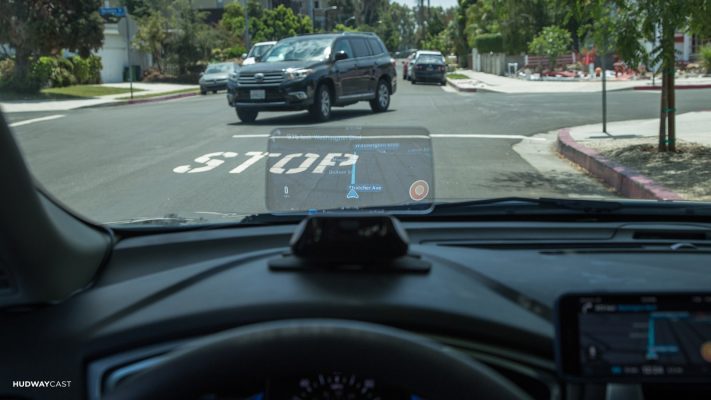 Bright and contrast image in any conditions
A display 20 times brighter than a smartphone screen gives an excellent full-color projection even on a sunny day — on a completely transparent lens. The display brightens and dims automatically, and the projection quality does not depend on how
bright your smartphone screen is.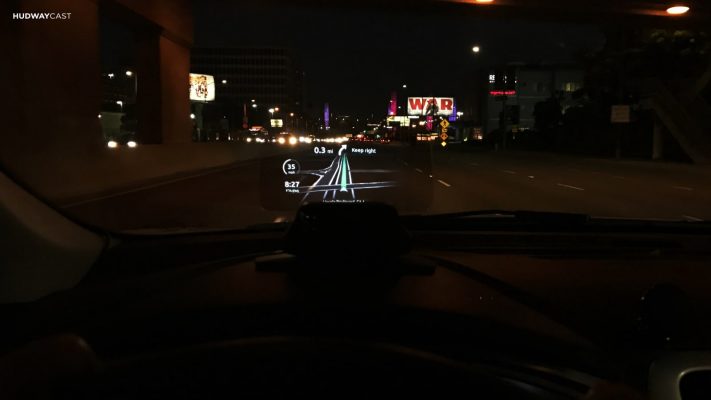 Easy to install
Just affix it to the dashboard and plug in the cigarette lighter socket. That's it. Take it off the mount and put to a gloves compartment when you're leaving the car.
We suggest that you tuck the cable under the windshield to keep it out of sight.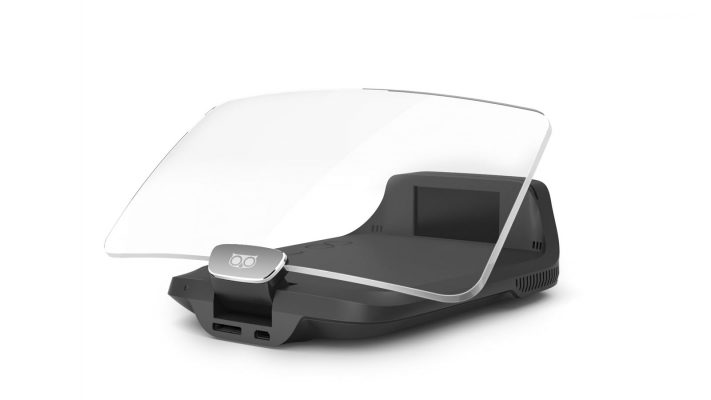 Connects to any smartphone, mirrors any app
It wirelessly connects to any smartphone that supports Miracast or Airplay — and that means virtually all modern smartphones. Pairing
with a smartphone is very easy, as both iOS and Android devices allow to cast the screen image to an external display wirelessly with just a swipe and a tap.
You launch a navigation app on your smartphone, select to stream it to HUDWAY Cast — et voila — enjoy driving with your directions projected in your line of sight.
You'll get the best experience if you switch Waze or Google maps to night mode prior to streaming them to Hudway Cast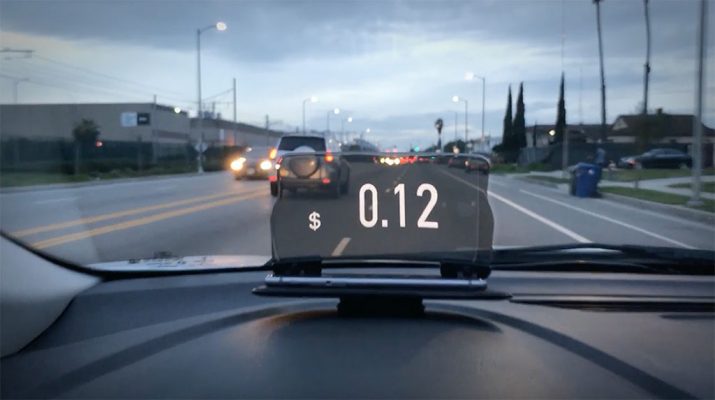 Versatile: for any car and driving professional
As HUDWAY Cast supports streaming any navigation app, it will be helpful for those who spends hours behind the wheel every day — truck drivers, taxi drivers, public transportation drivers, rally pilots, etc.
Anything on your smartphone screen can be streamed as is to HUDWAY Cast lens. This way, you can create a route in your favorite navigation app, stream it to HUDWAY Cast and see directions you're used to in your line of sight. That's one wayn to go…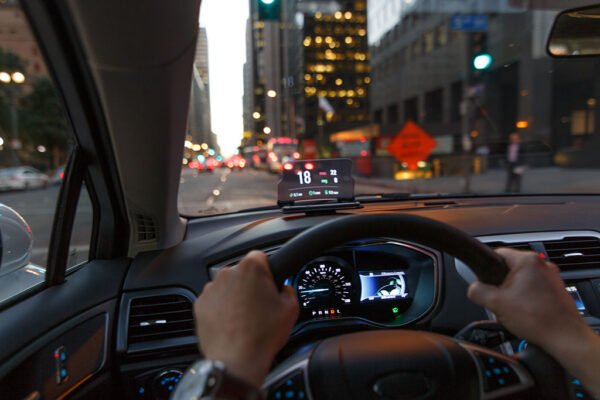 We've gone further and made an app that creates a game-changing experience, well beyond simply mirroring your phone screen.
It allows you to access the most needed smartphone functions in a driving-friendly way — and makes using smartphone behind the wheel safer and less-distracting.
The idea is that you mount your phone onto a magnetic holder where you can comfortably reach it, and with quick swipes and taps can answer calls, send quick message templates, share your location, or switch the tracks — all while seeing navigation in front of your eyes. 
The interface is built of bright and bold color spots to make sure you distract your eyes off the road to the phone as little as possible, and rely more on your peripheral eyesight — a Tesla-like experience in your car. Here's what we're implementing in the app.
Dashboard
Quickly view and manage the most basic things like recent phone calls, smart navigation suggestions, location search, music, and your favorite widgets.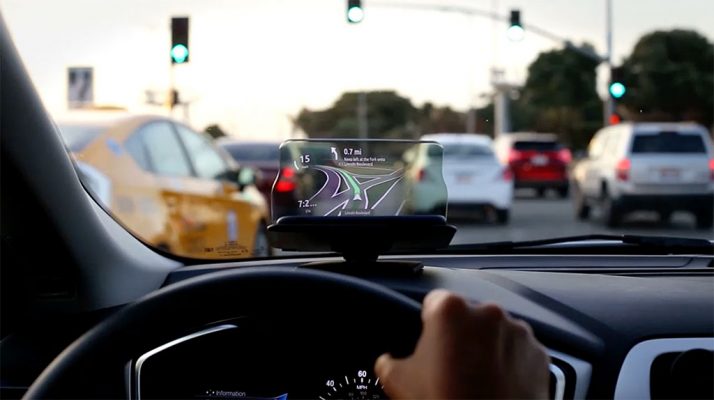 Navigation
Enter the destination and use HUDWAY Cast navigation to guide you — with offline maps, traffic info, and crisp uncluttered route view. Or switch it to Waze or Google Maps in the app settings.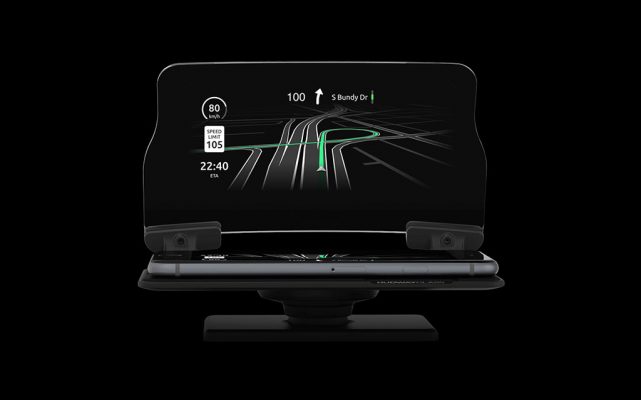 When you're using HUDWAY Cast navigation, you will always see the directions displayed on the heads-up display, no matter what you're doing in the app on your smartphone. That is to say, you can handle calls or switch tracks and still see the navigation streamed on the lens.
Calls
Accept calls like you're used to — using your headset, car speakers, or your smartphone. Use swipes to accept or dismiss a call. Make calls choosing from the list of favorites or recent calls — in a less distracting, hands-free way.
Messages
To avoid reading messages and texting when driving, HUDWAY Cast allows you to:
Listen to a received message;
Reply with a voice message;
Reply with a quick template message;
Share your position and ETA.
Music
Manage your music library or streaming services like Spotify by quick swipes and taps in our driving-friendly UI. You will still see your directions on HUDWAY Cast screen.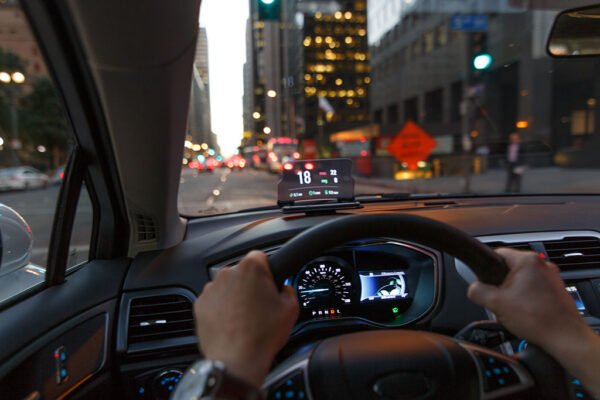 Due to the fact that Apple keeps a lot of things private, there will be differences in cans and can'ts for IOS and Android versions of HUDWAY Cast app:
We plan on implementing a voice-to-voice chat in the next versions of the app — so that you would be able to communicate safer behind the wheel on both iOS and Android.
Throughout the past few years the team in Beijing has been working to create an uncompromising alternative to built-in vehicle HUDs. After rounds and rounds of making, testing and updating prototypes, experimenting with lens curvatures, projection
screens and body designs, a full-fledged aftermarket HUD device was finally developed — versatile, powerful, and affordable.
Device specs
Device size: 15.4 x 10.1 cm (6.1 x 4 in); height: 4 cm (1.6 in)
Lens size: 16.2 x 9.2 cm (6.4 x 3.6 in)
Operating voltage and current: 12—14 Vdc @ 1 Amp (Max)
What's in the box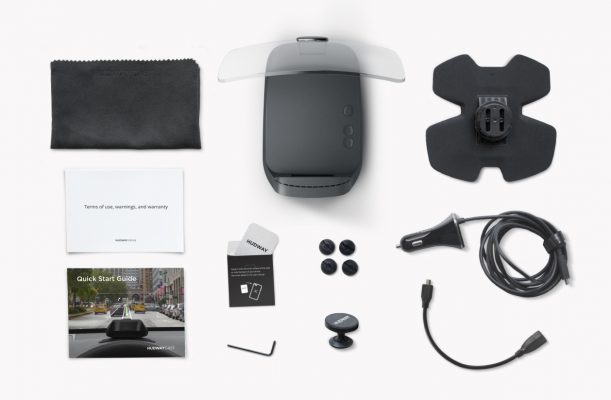 Attention! To check whether it will fit in your car, print a device mockup, cut it out and take it to your car.