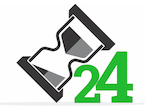 Hourglass24 
Welcome to Hourglass24, an oasis of creativity built to nurture your career. Crowdfund your next project in ways you may not have thought of before, get critical insights through a series of online and in-person classes to supercharge your capabilities, join us on global creative retreats, and learn about our partner film festival that's based in Arlington, Massachusetts (Boston) and is expanding to New York, Los Angeles, Atlanta, and Paris in 2024. We exist to help you thrive!
Ignite.
Crowdfunding Campaigns earn most of their pledges in the first 12 hours and the last 12 hours, which is why Hourglass24 targets 24-hour campaigns. You still need to promote your launch date with your friends and family and on social media, but there's no longer a reason to labor through 30+ stress-filled campaign days.
Excite.
We have many ways in which to help you thrive. From free Zoom meetings every Friday with our staff to advanced training online and in person, Premium Services for your campaign(s),  global creative retreats, consulting and producing options, and a Top 100 Best Rated Film Festival, Hourglass24 is dedicated to helping you reach your goal.
Unite.
We welcome campaigns from all creative areas. Here is a clip from a recent campaign. "Oklahoma Breakdown" was the Grand Prize Winner at The Lonely Seal International Film, Screenplay & Music Festival. If you want to submit your work to our festival, we will give those launching campaigns on Hourglass24 a discount code to offer to Lonely Seal.

Here are the trailers for our upcoming film festival:
Contact:
Email hello@Hourglass24.com, or call (877) 577-2424.
Join our Contact List and stay informed about Cool Crowdfunding Campaigns, Hot Creative Retreats, and Career Enhancing Classes.
Copyright 2023 – Hourglass24, LLC.