Q: How do I start a campaign?
A: If you are new to Hourglass24, click Register on the menu, then follow these steps: 
1. Fill out all areas on the registration form. Once you have done so, you will see your new username on the registration page. It will look something like this: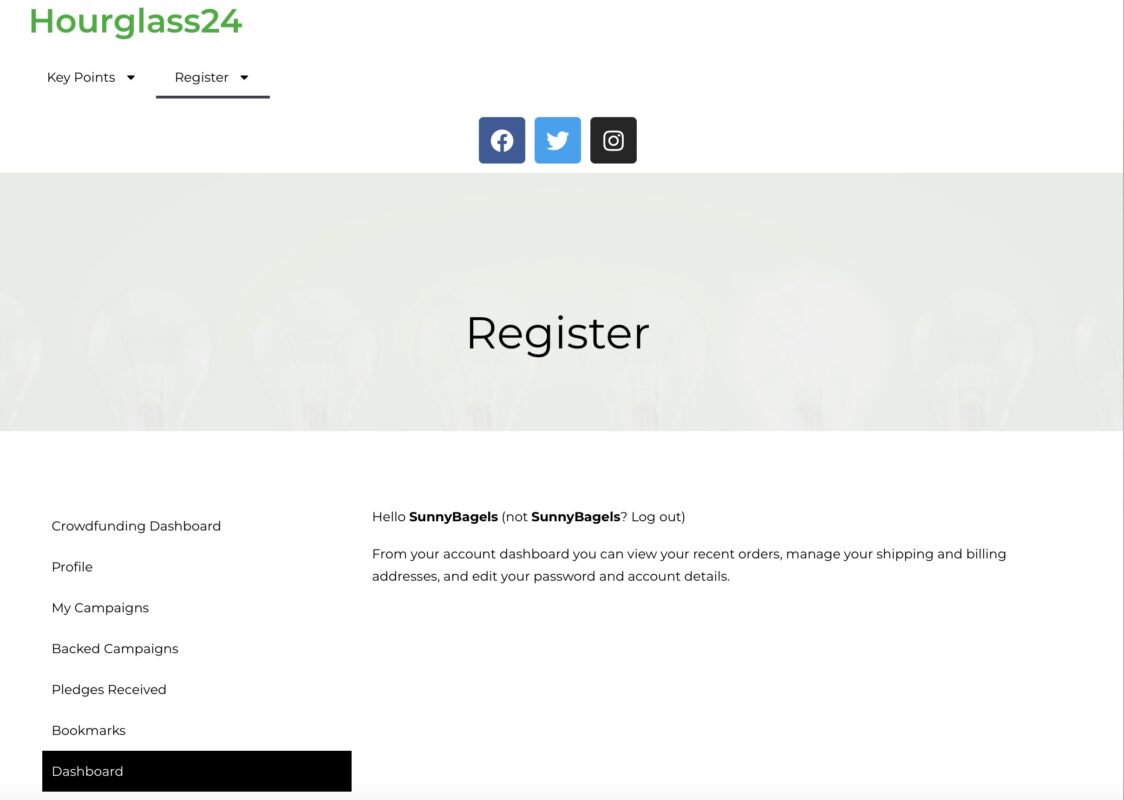 2.  Click on the Register button, and choose Campaign Submission Request from the dropdown menu.

3. Once on the "Campaign Submission Request" page, fill out as many areas as you are able.
"Category," use the dropdown menu to choose the category of your campaign.
"Campaign End Method," we recommend using "Target Date" as it will allow your campaign to accept funds after your goal has been reached.
The Calendar Format in the "Start Date" and "End Date" areas is day, month, and year (dd-mm-yy). Thus, June 30, 2023, reads as 30-06-2023.  
"Minimum and Maximum Amount"
These fields ARE NOT NEEDED because a) We allow you to keep what you raise, so there's no need to reach a minimum, and b) Your campaign would cease once the maximum amount is reached, which deprives you of further funding after the maximum is reached.
"Funding Goal" It's best to keep your funding goal low and overperform, as opposed to keeping it high and underperform. For example, if your funding goal is at $20,000 and your campaign raises $16,000, it will seem to have been unsuccessful. However, if you set your goal at $8,000 and still raise $16,000, your campaign would be viewed as a smashing success. Having a successful campaign over 24 hours may also generate publicity and create market validation for your product to investors and distributors.
"Reward Option" Feel free to upload multiple rewards, but having eight or fewer garners the best results. Just fill out the first reward option, then click on the green "+Add" button in the lower right corner of your screen,  under the "Quantity" section. Once finished, click on the  "Submit Campaign" button.
New submissions are usually handled same-day, but due to the extremely high level of demand, it may take up to three to five days to respond to your campaign submission request.
Q: How do current users add new campaigns?
A:  Sign in, and choose "My Dashboard."  Once open, click on the green "Add New Campaign" button on the right. 
Q: How do I change my password?
A:  Click on "My Dashboard" then "My Account"  and choose "Passwords" from the dropdown menu. 
Q: What if I lost my password? 
A:  Sign in,  click "Register" on the menu, fill in the "Login" information on the left side of the page, and then click on the link titled "Lost your password?" link under the "Login" buttons.
Q: Does Hourglass24 guarantee the items purchased on campaigns?
A:  No, we do not. Just like Kickstarter, Indigogo, and other major crowdfunding platforms, Hourglass24 cannot guarantee the delivery of items purchased on our campaigns. Delivering purchased items to their buyers is the sole responsibility of the campaign owners.  Hourglass24 will routinely remind campaign owners to fulfill their orders in a timely manner.
Q: How do I run the livestream during my campaign?
A: StreamYard. Tutorial on how to run your Livestream
This quick tutorial will help you run the livestream portion of your campaign.  Should you wish to have our team produce and direct your livestream, you can purchase that option by clicking on Premium Services
Q: How do I reach Customer Service? 
A:  Our 24-hour customer service can be reached at hello@hourglass24.com; you can call us at (877) 577-2424 or chat with us by clicking on the chat option. Care24 inquiries can email Care24@Hourglass24.com and use the phone and chat options as well. 
Q: Why only 24 hours?
A: Limiting it to 24 hours creates urgency for backers, family, and friends.
Q: Can I run more than one campaign simultaneously?
A: We don't recommend running multiple campaigns simultaneously because doing so will divide your support and deplete the value of both campaigns.
Q: Can people donate after 24 hours?
A: Once your Campaign ends, so does our ability to receive money for you – so let your supporters know when you launch and end.
Q: When will I get paid?
A: We pay out 14 calendar days after the end of your campaign. Hourglass24 pays electronically.
Q: Is there a Minimum Raise? 
A: No. Raise as much or as little as you like.  
Q: Can I run on other platforms? 
A: We prefer you don't run campaigns on other platforms during your 24-hours with us. Doing so will eliminate the sense of urgency to fund you quickly. 
Q: What Projects Work Well?
A: Feature Films, Documentaries, TV Series, Web Series, Short Films, Video Games, Music Videos, Comics, Plays, Screenplays, Film Festivals, Music Festivals, Screenplay Contests, and other creative endeavors. 
Q: How quickly can I launch?
A: We recommend a minimum of four weeks to prep your fanbase for your launch.
Q: What if I'm not approved? 
A: Feel free to email hello@hourglass24.com, call us at (877) 577-2424, or chat with us online to discuss if there are things in your presentation that could be enhanced or changed that may change our decision. 
Q: What is the return policy on perks?
A: Returns are the sole responsibility of campaign owners, not Hourglass24, so please reach out to them. However, if you are unable to reach the campaign owners, Hourglass24 would be happy to remind them of your need to speak to them regarding your order. 
Q: What is Care24?
A: Care24 supports non-profit creative projects at a significantly reduced fee of 3%. Should you wish to discuss a project, event, or mission with us, please email Care24@Hourglass24.com. You may also call us at (877) 577-2424 or chat with us through the chat box on this page. We look forward to helping you and your project thrive.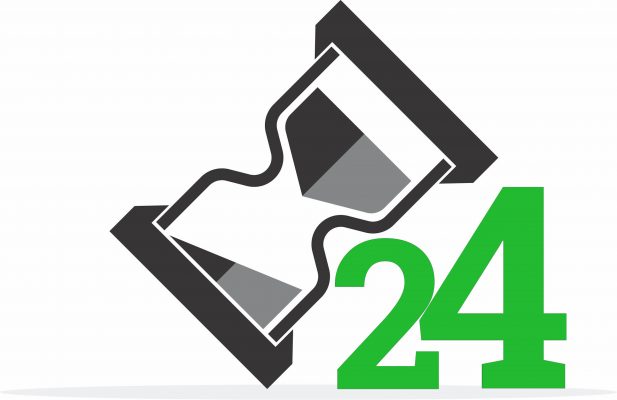 or 
(877) 577-2424